Festive party brings Christmas cheer to homeless in Worcester
23/12/2016
CHRISTMAS cheer was spread to the city's homeless community at a party filled with singing and music.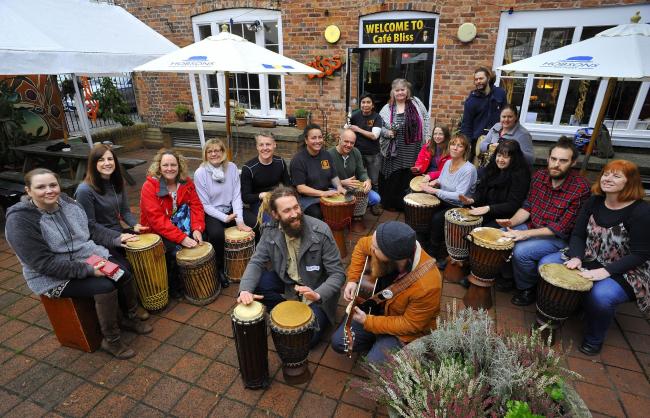 The festivities were held at Café Bliss, in Worcester, for people who use St Paul's Hostel, and saw party-goers take part in a noisy drumming workshop.
Worcester singer Ben Vickers entertained guests with a sing-a-long, while there were poetry readings and delicious food on offer too.  The party was organised by a group of big-hearted colleagues from Worcestershire County Council, who decided to fund the celebration instead of go out for a Christmas meal.
Esther Conran, who helped arrange the event, said: "It went really, really well. It was a very Christmassy celebration. "We thought instead of go out for a Christmas meal we wanted to do something and give something back."
She explained they also donated around £300 to the hostel, after winning the jackpot at the County Council's annual staff Christmas quiz. "I think they [the homeless] are some of the most vulnerable in our society," she continued.
"It is one of those things where it could be you. It could happen to anybody at any time and there is still this whole stigma attached to it. "St Paul's can do so much with such a little bit of money."
The quiz, attended by more than 100 members of staff, was held after work on Thursday, December 15 and had an international theme. Each team represented a different nation, and the winners were were Israel, who beat Canada after a tense tie-breaker.
Councillor Tony Miller, chairman of the council, said: "The quiz is an evening of fun for our staff who work so hard throughout the year, but more importantly it raises funds for local good causes, and this year's winners have chosen St Paul's Hostel as their nominated charity.
"It was a pleasure to present this sum to St Paul's, which is a fantastic cause; offering a helping hand to those who unfortunately are homeless or in need this Christmas."
St Paul's Hostel, in Hillborough, Tallow Hill, provides accommodation for up to 46 single homeless people.